Support Premium Equine Digestive Tract Health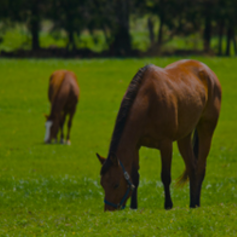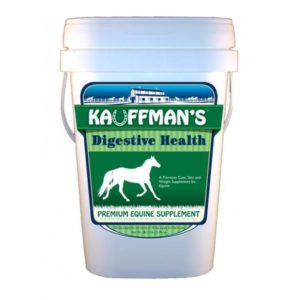 KAUFFMAN'S Digestive Health has been formulated to support health of the entire digestive tract of equine athletes prone to Equine Gastric Ulcer Syndrome (EGUS). A premium blend of carefully selected forage and yeast products, direct-fed microbials, fish oil, amino acids and fenugreek, designed to support the digestive health of equine athletes.
We have combined flax seed, alfalfa meal and fish oil with magnesium, L-Glutamine and L-Threonine in Digestive Health to aid in Equine Gastric Ulcer Syndrome (EGUS). The incidence of EGUS appears to be widespread throughout a variety of ages, breeds and disciplines of equine, with the highest incidence among performance horses. The carefully selected blend of ingredients is designed to support a reduction in the incidence and severity of EGUS. Flax seed (ground) and fish oil are significant sources of fat and essential Omega-3 fatty acids (DHA and EPA). It has been proven that Omega-3 fatty acids are necessary for proper maintenance of healthy plasma membranes and they have been shown to modulate inflammatory reactions in a variety of equine tissues. Most horses consuming typical diets receive an overabundance of Omega-6 versus Omega-3 fatty acids. Digestive Health helps to counteract this imbalance.
The total microbial count of Digestive Health exceeds 25.3 billion colony forming units (CFU) of five beneficial bacteria and yeast per ounce.
Get Digestive Health Today: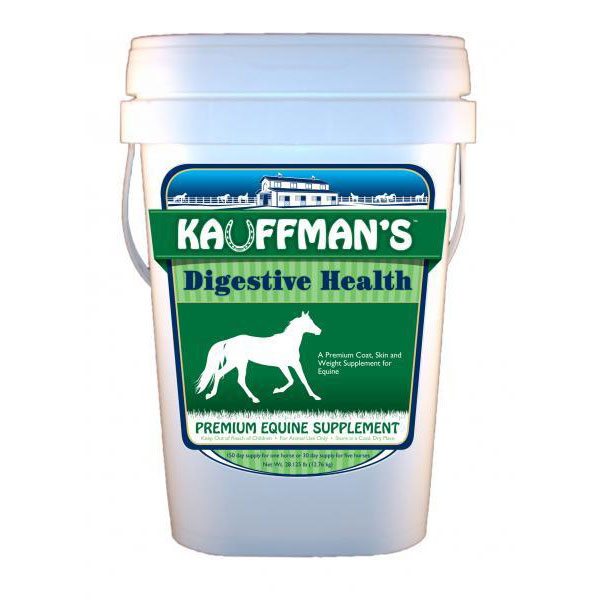 KAUFFMAN'S® Digestive Health
Digestive Health Powder delivers comprehensive digestive health support and helps maintain normal gastric acid levels.